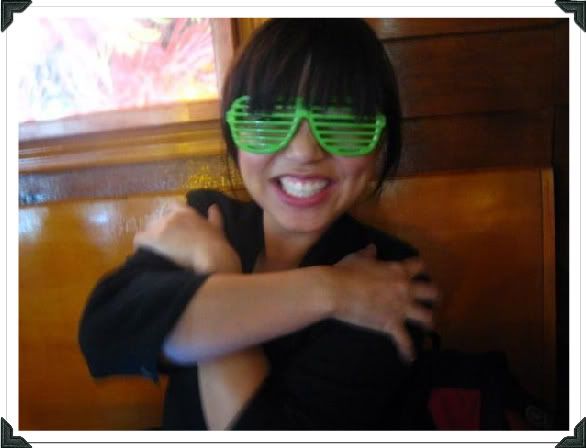 Name:
Christine Nguyen

Nicknames:
Chris, Xtine, Noodles, Criteen

Occupation:
Marketing Project Manager, Cisco Systems

Favorite Food:
Sushi, Bun Rieu, Bun Bo Hue

Favorite Pastime:
Sleeping, shopping, and eating

Shoe Size:
6

Exceptional at:
Burping like Homer Simpson and being your personal shopper!

Inny or Outty:
Inny
Heroes:
Mom, Kiba

Current Obsession:
The wedding


Christine has continuously amazed me from the day we met. Despite what her modest nature would let her admit, she is good at anything and everything she has ever decided she wanted to be good at. When I met her, she couldn't cook. At all. But she decided she wanted to learn, and now my chubby stomach will attest that she's fantastic at it. She claimed that she wanted a pet but had killed every one she had ever had. I got her an office plant as a test, which promptly met its tragic end. Then we got our dog, and she instantly became an amazing mom, and even in the face of tragedy she took great care of Kiba and helped him get healthy and happy. She makes friends everywhere she goes, and we can't go ANYWHERE without running into someone she knows. In the words of her dad, she has been a "celebrity" since she was a kid. She excels at work, has a respected online shop blog, and takes great pictures. She has a contagious energy that inspires me, and a smile that can't help but give you one of your own. Every day is a surprise with Christine, and I wouldn't have it any other way.
-Brian

Name:
Brian Vaeth

Nicknames:
Bozz, Vaether, Booze

Occupation:
Mechanical/Civil Engineer, Bechtel Corporation

Favorite Food:
Lasagna (hands down)

Favorite Pastime:
Anything baseball

Shoe Size:
9.5

Exceptional at:
Creating games and rules. Ask me about Bloodjack!

Inny or Outty:
Inny
Heroes:
Stephen Hawking, Dalai Lama

Current Obsession:
MAGIC, the gathering


If I had to use 3 words to sum up Brian, it would be baseball, airplanes, and home brewed beer. Brian is, above anything, an amazing partner and an amazing friend. He is the type of guy that will be able to keep up with almost any conversation because he is thoroughly knowledgeable in just about anything. The other day I started calling him "Husbandry" believing that I had made up a clever word for husband. Brian explained to me that husbandry was the practice of raising livestock for breeding. In other words, I was referring to myself as cattle of some sort. Who woulda thunk it? Aside from being my favorite brainiac, Brian unconditionally loves his family and his friends.
He doesn't hesitate to say "I love you" to his parents and his sister...for all of these reasons, I love him so much more!
-Christine