Christine and I had been seeing each other for 1 year and 365 days (since 2008 was a leap year) on the day I proposed to her. It might have been less if my bank account and lack of creativity hadn't slowed me down. As it happened, we became engaged on the day before our 2 year anniversary. Here's the story of how that day unfolded. . .

We had decided to spend the weekend in San Francisco for our anniversary (which fell on a Monday). Our trip was planned around visiting the Exploratorium on Sunday afternoon. Coincidentally, Lieu (Christine's mom) and Dave were spending the weekend in the city for their anniversary as well, so we had decided to meet them for breakfast to start the day. While Christine was getting ready, I pulled out my oversized ring box hidden inside our suitcase and stuffed it in my sock. I tried to plan for all of the scenarios that could possibly come into play. Cold weather? Christine will probably be glued to my side much as possible. Pockets were definitely not safe. I had remembered a trick from our friend Kenny (Kenny & Bodrey are getting hitched in June!) that he used the sock trick, so I went with it. I was worried it would be noticeable as a huge bulge coming out of the side of my leg above the ankle, but the pants seemed to bunch up enough that it wasn't glaring. As we walked to the elevator to leave, she bends down and tugs at my pant leg! My heart nearly jumps out of my throat. I yell "HEY!" and pull my leg quickly away from her. "What are you doing? It's fine!" I bark at her. "What are YOU doing? What's the matter with you?! Your pants are tucked in your shoe, I was just fixing it!" Christine says back, obviously thinking I'm crazy. "It's fine, don't worry about it," I repeat, hoping she will leave it alone. I can't come up with anything better to say because my mind is actually racing through contingency plans at the same time. What do I do if she finds it? Do I propose on the spot at the Holiday Inn by the elevator lobby? I hadn't planned for complete failure 5 minutes into the day. Luckily, she drops the subject and seems more interested in my strange behavior than my strange leg protrusion.

We ventured out to North Beach to eat at Mama's, a fantastic breakfast place that sports a 2+ hour wait. We decided to give it a try regardless, and waited the first 1.5 hours ourselves prior to meeting her mom. Arriving and finding only a line, Christine and her mom take a walk to find some coffee. As I am told later, Christine is spending this time prodding her mom for information about my proposal plans. Despite being in on it, Lieu plays it off perfectly. We proceeded to have our breakfast, during which Christine gets up to use the bathroom. Lieu practically jumps out of her seat once Christine is out of earshot. "Brian she has NO idea! I told her 'Oh, he said something about next month, or maybe next year. I don't think he has a plan yet.'" Christine bought it, since she knew that I had the ring already (we had shopped for the setting together) and was waiting to make the proposal special. I had been nervous about her suspecting something after the morning's close call, that this was what I needed to hear. I show them that I have the ring bulging out of my sock, which draws laughs, and we compose ourselves just in time for Christine to come back.

Christine and I then head up to the Exploratorium. I had actually been up there two days prior to scout the museum as a potential spot for the proposal, since we both really love it there. The place was overrun with kids and the chaotic fun did not exactly translate into romantic, so I had to come up with a Plan B.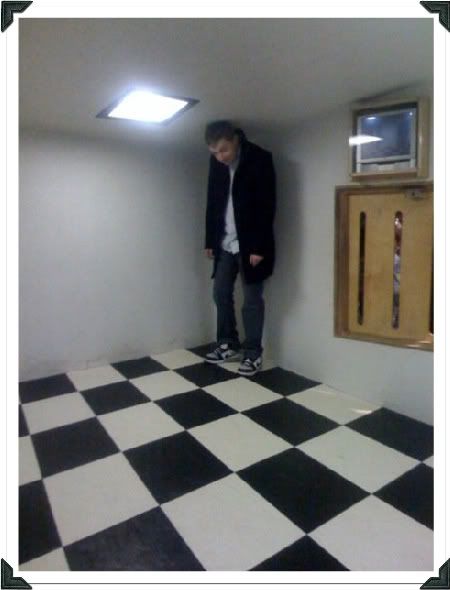 Me in the Alice in the Wonderland room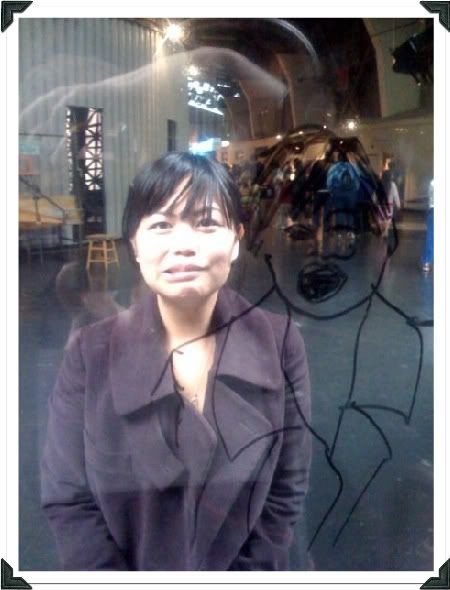 My drawing of Christine
We spent the rest of the afternoon at the Exploratorium and enjoyed all of the fun gadgets and gizmos. When it was coming close to the time to leave, I was growing a bit nervous. We left the museum and
took a walk across the street to Crissy Field. I pointed out a brand new climbing gym that had just opened down at the other end of the field (probably about a mile) and told Christine we should go check it out. She had NO interest in walking that far, but I kept telling her it wasn't as far as it looked. She finally conceded. In reality I just wanted to get her to start walking that direction, as there were a lot of turn offs from the path that lead over to the beach. When I had scouted the area a couple days prior, I decided that was where I was going to pop the question. As we walked, I kept seeing people with their dogs or some old man sunbathing at each of the path branch-offs. We kept walking, further than I had gone previously. To keep up the romantics, I told Christine how much I loved her and how happy I had been in the two years since we met each other. I kept up the corniness and kept eying for a good place to sit down. We came to another outcropping that had a large tree with a single wooden bench underneath it, facing out to the beach and the Golden Gate Bridge. Nobody around. Perfect.
Chrissy Field in San Francisco
We sat on the bench and talked for a bit. I tried to build up the mood, but Christine was freezing and the conversation often detoured to the couples walking past us on the beach, the boats in the bay, and the wind surfers riding in. As one wind surfer came close to shore, I wondered aloud what type of board they used and how they strapped into it and I leaned us forward for a squinting inspection from afar. As we leaned forward, I reached down into my sock, pulled out the ring box, and slid it into my coat pocket. "Oh well, can't tell what it is," I conceded and leaned back. I glance out the side of my eye for any reaction, but she didn't notice anything. Whew!

When I told my dad that I was going to ask Christine to marry me, his advice to me was pretty simple. "Don't overthink it. You will know when the time is right. Just be ready for it when it comes." I had followed that up to this point, and I knew that this was the right time. I don't really even remember what it was that I said, specifically. I told Christine our two incredible years with one another were only the beginning of our lives together. I reached into my pocket as I slid off the bench and onto my right knee on the ground in front of her. Before I said another word her eyes widened and her whole body flinched like she was startled. Her left hand immediately went to her mouth, her eyes teared up and she started screaming "OH MY GOD OH MY GOD NO REALLY OH MY GOD REALLY" while hitting me a couple times with her right hand. I didn't let the beat down keep me from opening the ring box and asking her to marry me. "Christine Lieu Nguyen..." I started. She was clearly flustered, saying "I DO" instead of "YES", and she finally gave me her hand to put the ring on her finger.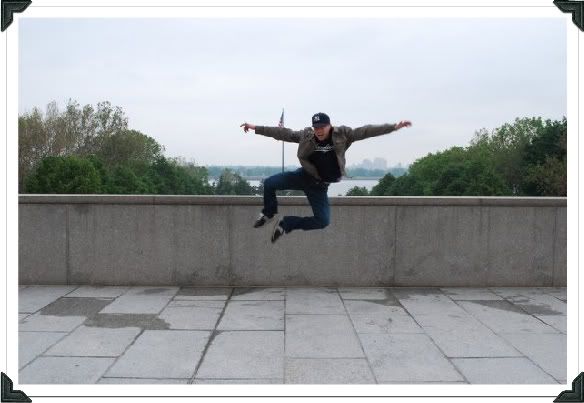 Me jumping for joy


After a long hug and a lot of wiping of tears, we started to head back toward the car. I told her all about the pre-planning I had made and she called me a "sneaky bastard". I had made us dinner reservations at Beach Chalet in the Sunset district, so we headed there next. When we arrived, the hostess was clearly the person I had made reservations with. I had requested a table with a great view of the sun set (what the restaurant is known for) because I was going to be proposing prior to coming to dinner. When I gave her my name she jumped a little and then tried to hide it in case she wasn't supposed to give anything away. It was cute. We were early so our table wasn't ready yet so we watched some of the Red Sox/Devil Rays game at the bar and started making calls to our family and friends.

After dinner, I told Christine to call in sick for Monday, since I had booked a suite at the Hilton downtown for the night. In my preparation, I had also stopped at the Hilton to upgrade our room and leave a bottle of champagne to be put in the room for us. When we arrived, we spent the night on cloud nine sipping on bubbly while looking out across sweeping city views.
At midnight the day ended. Our first 2 years together were complete but our lives together was just beginning.
-Brian


Christine & Brian, established October 2006